​LAKE HOLCOMBE ATHLETICS & ACTIVITIES
Athletic/Activities Director
Todd Senoraske
Email: athdir@lakeholcombe.k12.wi.us
27331 262nd Ave. Phone: 715.595.4241
Holcombe, WI 54745 Fax: 715.595.6383
ACTIVITIES OFFERED AT LAKE HOLCOMBE
High School
Business Ventures - Andy Lorenzen, Advisor

FFA - Kent Dorney, Advisor

Forensics - Beth Meddaugh, Advisor

National Honor Society - Nicole Crosby, Advisor

Show Choir - Shaylae Szotkowski, Advisor

Student Council - Shelley Lee, Advisor
Middle School
Battle of the Books - Laura Porter, Advisor

Forensics - Beth Meddaugh & Laura Porter, Advisors

MS Student Council - Morgan Milas & Jeff Milas, Advisors
SPORTS OFFERED AT LAKE HOLCOMBE
High School

Middle School

Fall

Football
Volleyball
Cross Country
Swimming (co-oped with Ladysmith)

Football
Volleyball
Cross Country

Winter

Boys Basketball
Girls Basketball
Wrestling (co-oped with Cornell & Gilman)

Boys Basketball
Girls Basketball
Wrestling (co-oped with Cornell & Gilman)

Spring

Baseball (co-oped with Cornell)
Softball (co-oped with Cornell)
Track & Field (co-oped with Cornell)
Golf (co-oped with Cornell)

Track & Field (co-oped with Cornell)
REQUIREMENTS FOR PARTICIPATION
Activities Code Meeting
--Held once in the summer before the start of the school year.
--You can pick up back to school materials and pay fees 1 hour prior or after the meeting.
--Parents and students entering the activities for the first time, new students, and 6th or 9th grade students returing mus attend the meeting to be eligible to participate in any athletics or activities.
--Participants unable to attend the meeting may view a recorded video of the presentation that will be linked to the school website several days after the presentation. Fees and forms will need to be submitted to the office prior to participation. ​
​Physicals
PHYSICAL EXAM CARD: Anyone who desires to participate in the Wisconsin Interscholastic Athletic Program (WIAA) must have their physical exam information card on file prior to the first day of practice. A licensed physician or physicians assistant must sign the appropriate form.
ALTERNATE YEAR CARD: Must be completed on the alternate year. Alternate year is the second year of a physical taken after April 1st.

Activities Fees and Forms
Note: activity fees are waived for the 2023-24 school year.
An activity fee of $25 will be charged to every participant in Category I. There will be a $75 limit per family.

What you must have turned in before beginning your season:
--Record of attending or viewing an Activities Code Meeting

--Athletic Physical or Alternate Year form

-- Book and Locker Fee ($20) made payable to Lake Holcombe School (waived)

-- Activity Fee ($25) made payable to Lake holcombe School (waived)

-- Registering on the rSchool website for the following:

Complete emergency contact information

Read and electronically sign WIAA Eligibility Information Bulliten

Read and electronically sign Lake Holcombe Activity Code form

Read and electronically sign Athlete Concussion information form

Read and electronically sign Informed Consent form
TICKET INFORMATION
​Entrance to all Lake Holcombe home events is free to the public.
​There is a fee for all WIAA playoff games.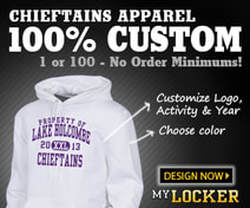 Shop for Lake Holcombe apparel. A portion of the proceeds from each sale go toward Lake Holcombe athletics.
Click here for link.